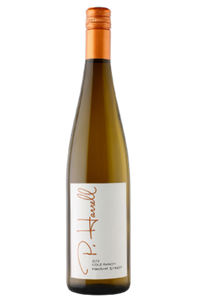 P. Harrell 2019 Riesling
Haight StreetCole Valley, Mendocino County
"Haight Street" refers to our property located at 940 Haight Street, San Francisco. My father and grandmother built this property from the ground up in 1969 and it was the cornerstone of their business. I named this dry Riesling in their honor, as it is as bold and driven in its complexity and flavor as they were in their business
Opening with a bouquet of peach blossom and passion fruit on the nose, the wine has a palate full of citrus fruit, minerality, lemongrass, and honeydew. In my mind, a worthy tribute to their legacy. Enjoy!
**Gold Medal Winner 2019**
We're thrilled to announce that our 2018 Haight Street Dry Riesling is a Gold Medal winner in the 2019 San Francisco Chronicle International Wine Competition!